Skin Transformation Programs
You may have heard of our skin transformation programs.
Now we have transformed our transformation programs!
New for 2023, we have revamped our programs to suit you, our clients even more. We have made them more simple for you to understand, along with more savings.
What is a transformation program?
These are exclusive programs for our clients that I created during lockdown. These are a group of courses of treatments in skincare, that are personalised to suit you. We have four programs in a range of our treatments from chemical peels , microdermabrasion and collagen lift our exclusive nonsurgical facelift.
All transformation programs include a patch test, photos, a water bottle to keep you hydrated, personalise skincare from Eve Taylor and one month supply of collagen supplement to boost your skincare from within.
Have recently had the collagen lift facial with the amazing Ashleigh, my skin looks and feels lifted and tightened, Ashleigh is extremely professional and I am looking forward to having more treatments . K Pullam 2022
Each course has a different transformation time from 5 to 7 months. They will include a variety of facials as per the picture.
We can treat the following 
Uneven skin tone

Acne

Blackheads and commodones

Pigmentation

Age spots line

Lack of skin elasticity

Plumping of skin

Wrinkles and fine lines

Sun damage

and so much more!
If you have any of these skin issues that you would like to resolve in 2023, then our transformation programs are for you.
Such a lovely atmosphere and lovely friendly staff, and had a chemical peel with Amazing results! And looking forward to my Collagen
Lift Facial next ! Kim 2023
Speak to your skin therapist, Katie or Ashleigh and you'll see results by April! Some see results are one treatment!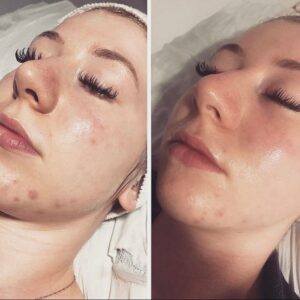 01708472727